About
Asians Represent! is a Gold ENnie Award winning podcast that celebrates and examines Asian representation in tabletop games and pop culture. We do this by creating conversation, introducing new perspectives to the broader gaming community, and creating spaces for new voices in the industry.
Asians Represent! members speak with compassion and from personal experience. We strive to be inclusive, compassionate, caring, introspective, respectful, empowered, conversational, and educational.
Contact
Whether you're a fellow Asian online content creator, TTRPG writer, or artist, we'd love to collaborate with you! If you are interested in appearing on the Asians Represent! Podcast, or have a professional inquiry about Asians Represent appearances, collaborations, and brand sponsorship, please fill out the form below.
*For personal or fan inquiries, please reach out to us on social media. Let's chat!
Apply to join our Discord Community
Discord & Twitch Ban Appeal Form
TEAM
Agatha Cheng (Co-Host & Chief Community Officer) burst into the RPG scene in early 2015 armed solely with the knowledge that gnomes are a fantasy race and apparently so are bards. She has since waded deep into the world of story games and LARPs, but still maintains the wide-eyed enthusiasm of that long ago first session. When not obsessively dissecting pop culture and media, she has a particular fondness for sad games, romance RPGs, and Chinese wuxia dramas.
Steve Huynh (Co-host & Discord Admin) joined the team in early 2019 as a Toronto-based Vietnamese RPG and gaming enthusiast. Although he had no experience with podcasting or game design, he lead with passion and became one of the cast members of the mini-series Dungeons & Da Asians playing La Ning. Shortly after, he and Daniel paired up for another project: Asians Read Oriental Adventures. From there, he leveraged his newfound insights and joy to become a writer and editor in Unbreakable Vol.1 and Unbreakable: Revolution.
Drew Quon (Discord Community Manager) is a NAI-certified historic interpreter and aspiring TTRPG writer. Drew helps the Asians Represent team plan and implement growth strategies for our Discord server. He will be implementing new on-boarding procedures for new members, organizing community events, and monitoring the safety of our server with the moderator team. He can often be found playing "too much D&D (whatever that means)".
Pam Punzalan is a queer Filipina game designer, editor and consultant based in Manila. Her large personal works include Sundo: We Once Mortal, Navathem's End, and an up and coming official Dagger Isles Supplement for Blades in the Dark. Some of her contributions include The Islands of Sina Una, D&D 5E: Ancestry & Culture Zine, Thirsty Sword Lesbians, and Spire. Beyond doing design, she handles community work for Asians Represent, the local scene for tabletop roleplaying gamers in the Phiilippines, handling queer and femme spaces for geeks in Manila, and and pushing #RPGSEA - Roleplaying Games Southeast Asia - forward to the best of her abilities. One of the big personal projects she plans on doing is a streamed series about the constraints faced by industry folks in the Global South.
Audio Series
The Asians Represent! Podcast is here to celebrate and examine Asian representation
in tabletop games and pop culture. We do this by creating conversation,
introducing new perspectives to the broader gaming community, and creating
spaces for new voices in the industry.

The Asians Represent! Podcast is streamed live on Twitch on the 1st and 3rd Friday of the month at 7:00 pm EST. Episodes at uploaded to YouTube the following Monday! Our extended audio feed is exclusive to Patreon Supporters.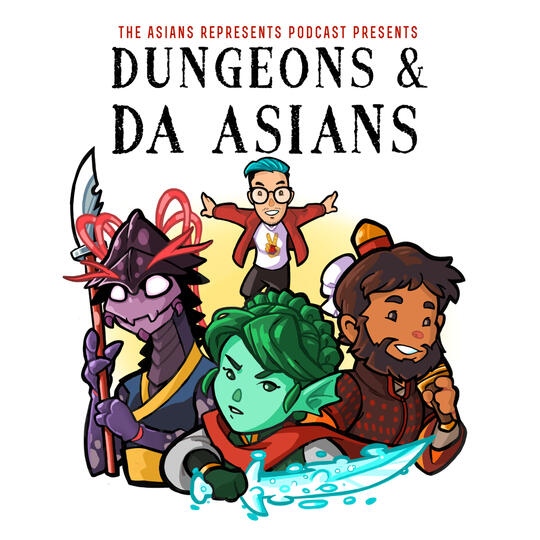 Follow Dong-Feng the crustacean sky soldier, W'Leed the wandering bandit, and Ning the Youxia as they navigate the intrigue, mystery, and dangerous magic in the kingdom of Xia! Dungeons & Da Asians is available on the Asians Represent podcast feed on iTunes, Spotify, and Google Podcasts.

For health reasons, Dungeons & Da Asians is currently on hiatus.
Streamed series
Asians Represent! variety programming is streamed on a weekly or monthly basis at twitch.tv/aznsrep!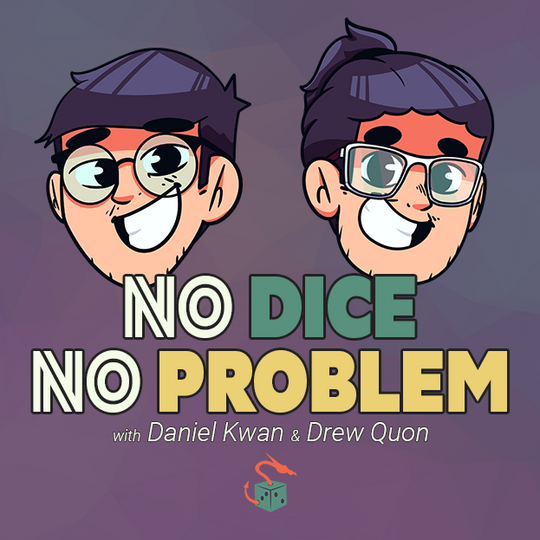 Bubble Tea Book Club is streamed on the 4th Friday of the month at 7 pm EST on Twitch! Join Daniel, Agatha, and their guests as they review games and highlight the work of Asian creators! VODs of the series are available to watch on our Patreon page.
Critical Read is streamed live at twitch.tv/aznsrep on the third Saturday of the month (noon EST)! Join Ammar and his crew as they read through the AD&D Al-Qadim: Arabian Adventures handbook and provide their critical insight!

On Hiatus
Join Daniel, Emma, Jacky, Michelle, and Liana on the first Saturday of the month at noon EST as they read through the entire AD&D Kara-Tur campaign setting and provide their critical insight!